Part 2 // There's Something About Mary
Note to reader: If you haven't had a chance to check out Part I of "There's Something About Mary," read it now!
We can probably all agree that no appetizer spread is complete without a cheesy dip. When someone says, "dip," the mind goes to party food that you'd see for Sunday night football or an "alternative punch bowl" where people gather before heading out to the dance floor. Whatever the dip, or wherever you find it, it all has one thing in common — it brings people together.
Our Goat Cheese + Pepper Jelly with garlic parmesan crisps is one such dip. Guys, trust us when we say it's one of our tastiest starters. But have you ever wondered where our star ingredient comes from and how it's made?
Where It All Starts
The cheese we use is Fromage Blanc from the experts at Cypress Grove. We know, it sounds fancy, but this approachable, fresh goat cheese comes from a humble, remote town in Humboldt County, along the Northern California coast.
The Cypress Grove team is just as innovative, spunky and dedicated to providing small-town hospitality as we are, and you can absolutely taste that spirit in their products. As the team there likes to put it, "We march to the beat of our own drummer." That's truly their secret sauce.
Now on to the history … Cypress Grove was an early leader in the American goat cheese movement and is celebrated for its soft-ripened, fresh and aged cheeses. Fromage Blanc is considered one of their creamiest, highest-moisture cheeses. With its unmistakable acidic tang and spreadable texture, it's a perfect dipping starter dish to share among friends.
Making Goat Cheese 101
If you love dairy farming and really want to learn the process of how Cypress Grove makes their cheese, we've created this fun infographic for you to digest (get it? Digest?).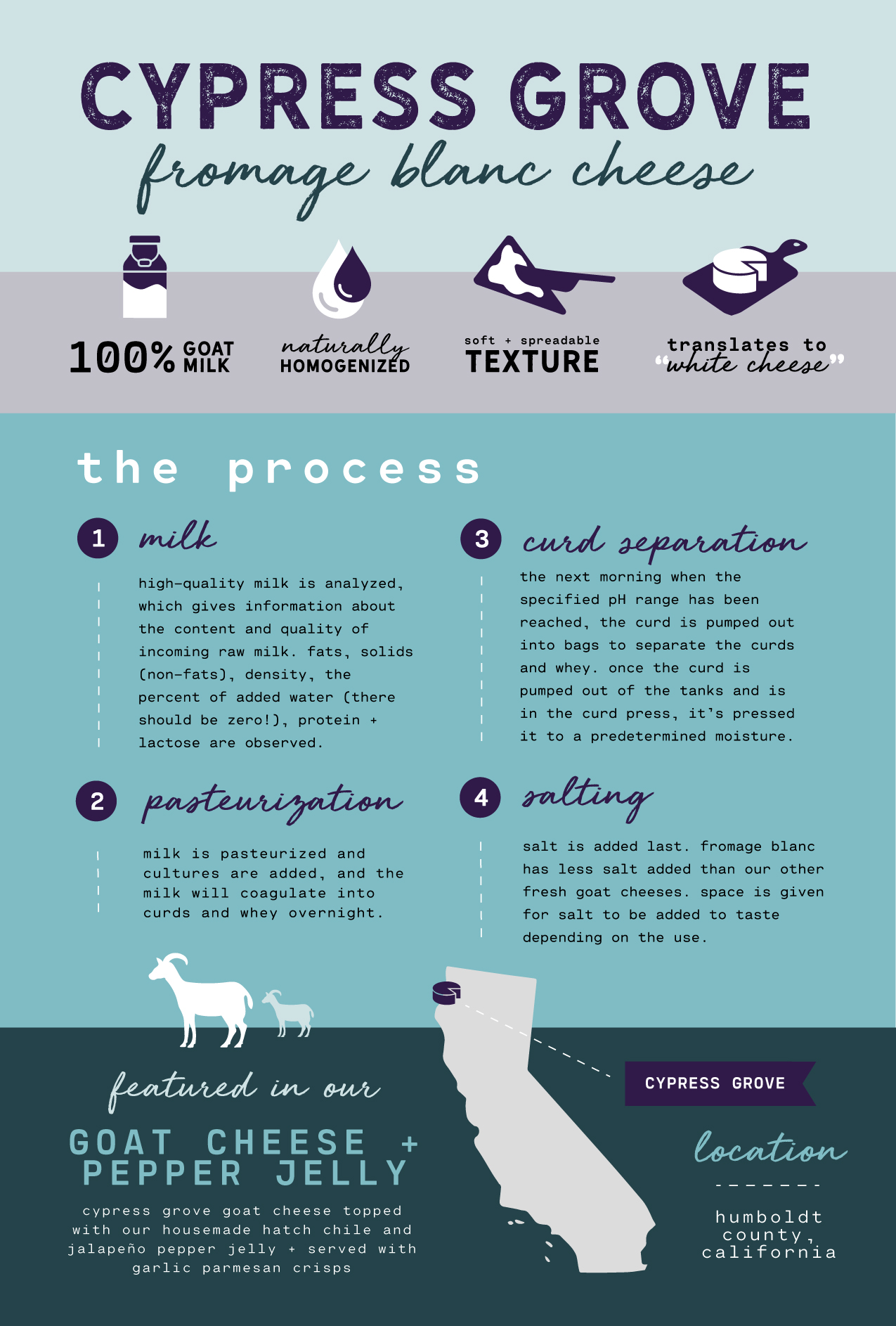 Fromage Blanc is made from really high-quality milk. Cypress Grove puts on their scientific hats to analyze each load for fats, solids (non-fats), density, percent of added water (there should be zero!), protein and lactose*. They treat it gently and test each farm sample every step of the way.
The milk travels from the pumps to the pipes and the pasteurization* process begins. Cultures are added and then the milk concentrates into curds* and whey* overnight.
We know we threw a lot of crazy words at you, so here's your chance to brush up on your cheese vocab. Let's break them down: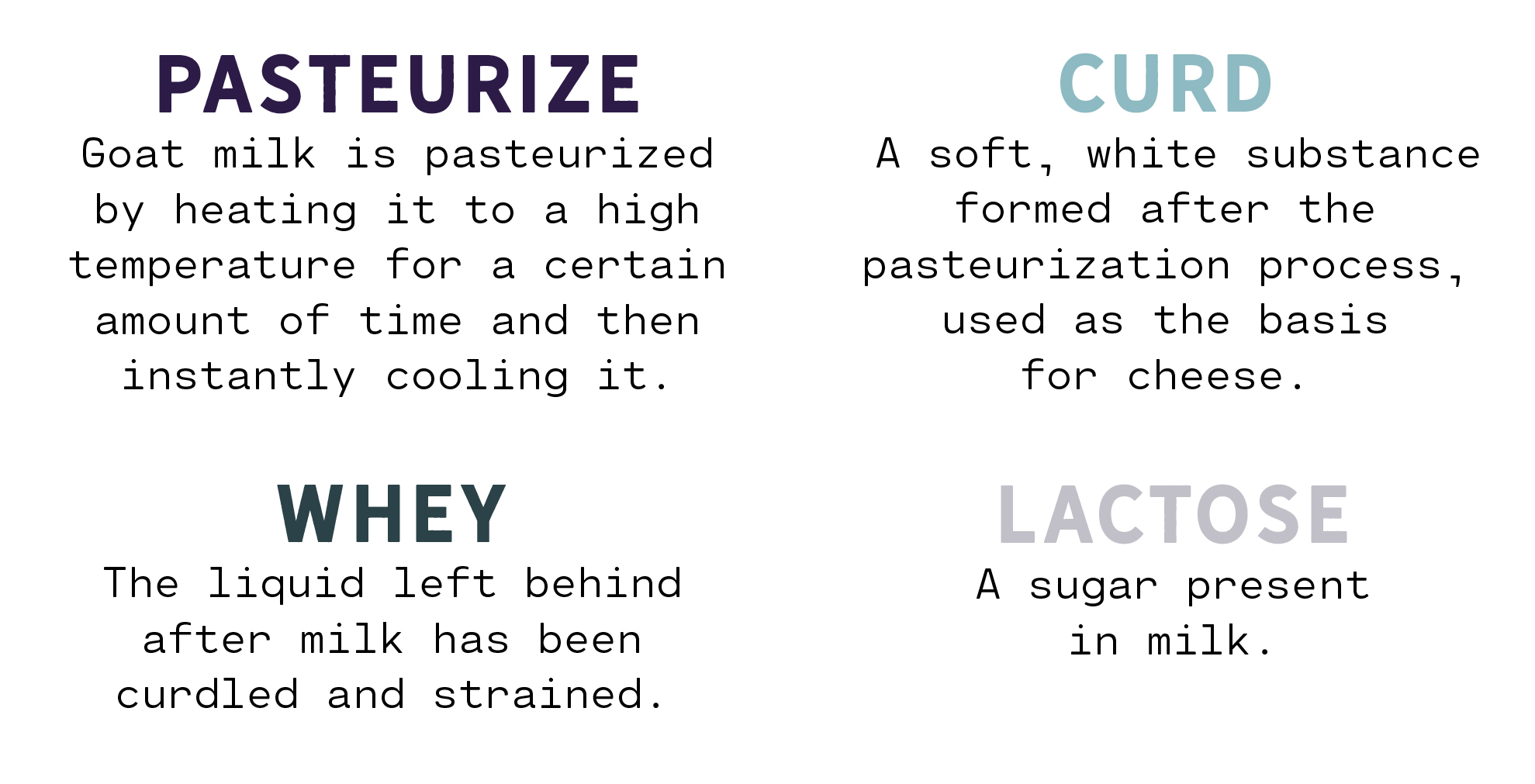 In the morning, once the substance has reached a specified pH range, the team at Cypress Grove pumps the curd into bags to separate it from the whey. Once the curd is pumped out of the tanks, it is moved into the curd press, where it is pressed to a predetermined moisture. For Fromage Blanc, that moisture is higher than Cypress Grove's other fresh goat cheeses. This offers more spreadability and a more acidic flavor.
But we can't forget about the salt! Fromage Blanc was meant to be used in the kitchen as an ingredient, so it has less salt added than its cheesy counterparts. Cypress Grove wanted to allow chefs the freedom to decide how much salt to add depending on the use. Here at Lazy Dog, we're thankful for that approach. And once you try our Goat Cheese + Pepper Jelly starter, we think you will be, too.
Fromage Blanc is ready immediately after it's made. That means it's a "fresh cheese" — the flavor doesn't change with age and it doesn't need to go through another round of ripening. The folks at Cypress Grove set the clock for 24 hours and the milk is transformed into a tasty cheese ready for our enjoyment.
From there the cheese makes its way to our kitchens where we spruce it up with our housemade Hatch chile and jalapeño pepper jelly.
So next time you have a taste at our restaurants, take a moment to appreciate the true journey Fromage Blanc has taken from farm to table, and relish the unique blend of spicy, sweet, savory and creamy. We know we will, with a drink in hand and surrounded by the friends we love the most.