License Plate Jim: A Man with a Plan
When Jim DeWeese left us a customer comment back in April, it appeared at first to be a simple compliment about our Lazy Dog location in Folsom, where Jim and his family had been regulars since it opened in September of 2017. But it soon became apparent that Jim was contacting us for a much different reason, a personal one.
Jim had taken note of our American License Plate installation on the wall, an homage to the childhood game founder Chris Simms used to play with his brother, whereby someone earns points by spotting different license plates from different states.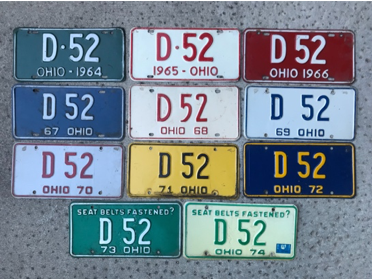 But the wall of plates held more significance to Jim, who couldn't help but think of his late grandfather, Jerome Didot, a lover of cars and avid collector of license plates. Jim contacted us, telling us about his idea of paying tribute to his grandfather by adding one of his plates to the Lazy Dog wall.
I reached out to Jim to thank him for his email and to learn more about his grandfather and his collection. Jim told me about Jerome, and how he worked the printing press at Hammer Graphics for over 60 years in Piqua, Ohio, his first job out of high school. But from a young age, Jerome had a passion for cars, even taking his father's Model T out for a joyride with friends when he was a teenager, an outing that eventually led to the car ending up in a river. Fortunately, no one was harmed (besides the car, of course).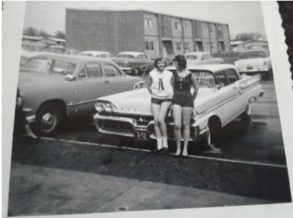 Despite the little mishap, Jerome's interest in cars stayed with him throughout his life, and when he started a family of his own he decided to get a custom-made Ohio license plate each year with D52 written on it to represent his family. D for Didot, 5 for the number of members in his family, and 2 to present his daughters. It was supposed to be D53, since he had three daughters, but low-and-behold, that plate number was already taken. Jim says it's become a running joke in the family as to which aunt was left off the license plate.
When Jerome passed in 1985, Jim received part of the license plate collection, which dated back all the way to the 50s. When Jim saw the license plates hung on the wall in our restaurant, he wondered if there was a way to contribute a little piece of his grandfather to Lazy Dog, since it was a place he and his family frequent often.
"I saw [the wall] and I was like, 'I'd love to have my grandpa's plate up there,'" said Jim. "Just because he was so special in my life and I'd love to do something for him. He wasn't rich, but that's the house you always wanted to go to. It was a very fun atmosphere for a family."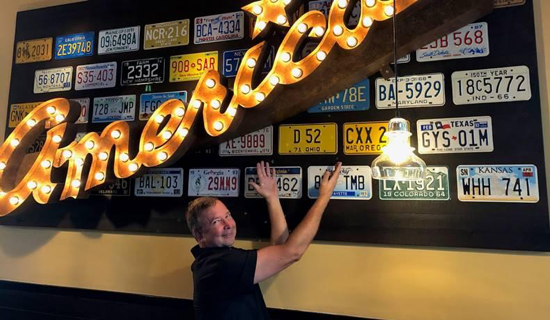 On Father's Day this past June, Jim and his family visited our Folsom location, and thanks to the efforts of the Lazy Dog team led by GM Ken Raymond, Jim was able to bring his idea to fruition.
Now, Jim's grandfather's story can live on in our restaurant and be shared with others. It's a connection that will last a lifetime. And, in essence, that's what the Lazy Dog family is all about.