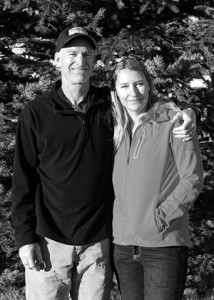 One of our favorite new additions to the menu is Chef Gabe's BBQ Bison Meatloaf, and we wanted to take some time to share a little bit more about this dish and where it comes from. At Lazy Dog we develop our recipes and dishes with you, the guest, in mind. We want you to experience a wholesome, delicious, made from scratch meal, prepared with the very best ingredients available. The core ingredient of this dish hails from the Durham Family Bison Ranch in Wyoming. The ranch is family-owned and operated and they are dedicated to becoming a model of successful ranch operation. They strive to be a ranch that will be the hope of all family-owned ranches, where relationships, caring, quality of life and profit are all blended into a rewarding experience for everyone involved.
That said, we wanted to know more, and really get to the heart of their operation and learn about the family behind it all. Like the Simms Family, they have deep roots in their industry. Finding folks that are the third and fourth generation, running a family business, is rare and so special. We recently reached out to Chris Flocchini, CEO of Sierra meat and Flocchini Family Provisions, who put us in touch with his brother John, the head honcho at Durham Ranch in Wyoming. Lazy Dog's Rebecca Simms caught up with John Flocchini to learn all about the mighty bison and life on the ranch with the Flocchini family. Enjoy!

Questions/Answers
RS: It's pretty awesome that you are a third generation rancher! I read about your grandfather Armando Flocchini Sr. , San Francisco butcher turned rancher; what brought him out to Wyoming in the 60's? Why ranching?
It is pretty special to be of the 3rd generation involved with the ranch. My grandfather was certainly one of my early mentors that got me excited about ranch life. So, back in the 60's and in the true spirit of entrepreneurship, the family was looking to integrate the meat business and were looking for ranches to buy. The bison ranch in Wyoming was a pretty random find as bison ranching was not part of our vision until introduced to it at that time. My father and grandfather agreed that selling bison meat likely had a future and, they went for it.
RS: Was your father born and raised on the ranch? When did you get introduced to the family business?
My father was born and raised into the meat business in San Francisco. We used to take our summer vacations to the ranch in Wyoming when I was growing up. It was there/then that I fell in love with the ranch. And, actually, I am the first of the family to live year-round on the ranch. We had hired outside managers until I came along. I was raised in California as well (south bay area) and, starting working my summers at the ranch around age 12. I would live with my grandparents, eating my grandmother's fine Italian cooking and, learn about ranching from my grandad. I would head back to Calif. for school in the late summer/fall.
RS: Living the dream! What an amazing way to grow up. Did you always know you were destined to follow in your grandfathers and fathers footsteps?
I let my dad know when I was entering my senior year of high school that I was interested in managing the ranch for the family. He was very supportive and, helped me get my Bachelor's degree in Ag from Cal Poly, SLO. I moved to the ranch full time after that (1982).

RS: What a cool journey you've had. So fast forward to today, your family runs a sustainable ranching program at Durham Ranch. What exactly does "sustainable ranching" mean? How does it differ from other methods?
We actually manage our resources, which includes the ranch, using Holistic Management. This encompasses sustainability to include the land base we manage as well as the human resources that we work with and, the capital that we have invested and work with. Put another way, we are managing for a stated landscape goal (the ranch land) into the future which allows us to produce a product (the bison) that will sustain the quality of life we (owners and staff) desire. Does that make sense?
RS: Totally!
Sustainability includes profitability as well. We would not last long on the land nor be able to support our staff and families if we could not make a profit. It is a key component to being sustainable. Part of our "whole" includes the communities around us and, we are committed to being active and supportive members of those communities. This helps the communities to be sustainable as well.
RS: Love that. At Lazy Dog we share the same beliefs and understand the importance of the role businesses play in being a part of the community they do business in. We treat our community like one big family. Speaking of family, what do you think is the best part about working with family?
It is fun to be a part of a successful business and, the fact that it is with family adds a deeper dimension. We have had great models before us to emulate and, we have a great family of loving and caring individuals. It is a bonus to do this with family. Not that it does not come withoutchallenges. But, at the end of the day, our past and current family leaders have made sure we are all comfortable breaking bread together at family holiday gatherings, Sunday dinners, etc.
RS: Right on. Breaking bread together is so important. For the Simms Family, getting everyone together and sharing meals together is the most important thing we do. It's the glue that keeps us together.

RS: Now on to those big beautiful Bison. Your website says that you have been "..raising this awesome and intriguing animal for nearly 50 years..". What makes them so awesome and intriguing?
You will understand when you get a chance to come for a visit Rebecca!
RS: [insert laughs] I'll take that as my formal invitation! I'm holding you to that! But seriously, what makes them so awesome?
They have a long history of being survivors. First off, they are the largest land animal to survive the last ice age in North America. Secondly, they survived disease and hunting which took them to near extinction in the late 1800's. You read where there were 1000 or less at that time. Thanks to some ranchers and early conservationists, the population turned around to where there are now upwards of 400,000 in North America.
This animal knows how to survive! Watching them in this Wyoming environment is a testament tothat as well. Whether it is how they handle the hot dry summers or, face off with the worst blizzards that the prairie can bring on in the winter, they know what to do. They are huge, athletic and majestic all at the same time.
RS: You had me at "...largest land animal to survive the last ice age." I'm going to go ahead and add Beyonce's "Survivor" to the cue. I'd like to dedicate this song it to the mighty bison. But in all seriousness, I can't wait to come out and see them in person.

RS: So, how many bison do you have on the ranch at one time? Is it an even mix of male and female?
Our current ownership on the ranch is around 3000. Most of these are breeding females and calves (mixed 50/50).
RS: There has definitely been a major growth in the popularity of bison as a specialty meat product. What do you think has changed most about the way folks perceive bison since the 60's?
The meat was considered a novelty back then. A conversation piece if you will. With the help of the National Bison Association (NBA) and the folks in the bison meat marketing business, the conversation has changed to one of how healthy and delicious bison meat is!

RS: Then I owe the NBA a big thank you. I love how bison is popping up on menus everywhere and readily available at my local grocer but I still feel like a lot of people aren't sure how they feel about it. What is the biggest misconception you face when introducing folks to Bison as a food source?
There have been some historical misconceptions about bison like; they are an endangered species, or, the meat is tough, etc. Bison ranching and marketing has come a ways from the early days (1960s and 70s). Folks in the business are more educated about how to raise and market quality animals/meat.
RS: If you had to convince someone to try a bison dish, using only one sentence, how would you sell them on it?
"If you like beef, you'll love bison!"
RS: So simple. I love it. I can't wait to share that one with our team. We talked a lot about how to explain what bison tastes like to our guests. This one liner is perfect!

RS: Last but not least, what is your favorite way to cook and prepare bison at home? Any favorite family recipes?
Love to BBQ. We BBQ year-round at the ranch. 100 degrees above to -10 degrees, we are out there grilling steaks. Otherwise, braised short-ribs (or osso bucco or shanks) are one of my favorites. Great fall/winter food.
RS: Today is the first day of the fall season. Perfect timing to start thinking about fall/winter food! Thank you so much for your time John! Looking forward to a visit to the ranch soon!
---
Recipe: Chipotle Chocolate Bison Chili
For a completely different flavor experience, try Chipotle Chocolate Bison Chili, which mixes unsweetened dark chocolate and stewed chipotles with the delicate flavor of ground bison.
1 1/2 ounces extra bittersweet chocolate, grated
1 pound ground bison
2 tablespoons olive oil
1/2 teaspoon cayenne
1 small onion, diced
1 sweet red pepper, diced
1 clove garlic, minced
1 tablespoon ground ancho chile
2 teaspoons ground chipotle
1 cup water
1 tablespoon flour
2 tablespoons grated panela
1 can crushed tomatoes (14 ounces)
1 1/2 cups red kidney beans
*salt and pepper to taste
Step 1: Turn crockpot on high.
Step 2: Heat 1 tablespoon olive oil in a sauté pan on medium-high heat. Add garlic, cayenne, ancho chile and ground chipotle. Cook until garlic has softened.
Step 3: Add ground bison and cook until no longer pink. Transfer drained meat to crockpot.
Step 4: In the same sauté pan add remaining 1 tablespoon of olive oil. Add flour, onion and red pepper. Cook until onion is translucent and peppers have softened.
Step 5: Transfer vegetable mixture to crockpot. Add water, panela, chocolate and tomatoes. Stir to combine. Adjust salt and pepper to taste.
Step 6: Cook on high for 5 hours.
Step 7: Add red kidney beans and cook for an additional hour.
Step 8: Serve warm.
---
Tips for Cooking with Bison
While bison is similar to beef in flavor, it has far less fat, so it needs different preparation to achieve the best results. Specific techniques vary by cut, but here are some general guidelines.
1/3 LESS TIME
Bison requires about 1/3 less cooking time than beef. However, you don't want to rush it. Cooking bison over a lower temperature helps maintain its moist and tender texture
1/3 LESS HEAT
Like beef, bison is best enjoyed rare to medium rare. But remember, it requires 1/3 less heat to cook. "Low and slow" is a good rule to follow as long as you don't overcook.
LET IT REST
Let your bison rest in a warm place for 5 to 15 minutes after cooking. Don't cut into bison until it has rested. Cutting too soon will let the sealed-in juices escape.
CHECK THE TEMP
For the best taste, most bison steaks and roasts should be cooked to an internal temperature of 120–140° F when taken off grill or out of oven. Trust your meat thermometer, not your eyes!
Thank you Bison Council! // via Durham Bison Ranch Blog
---
Photographs courtesy of Durham Bison Ranch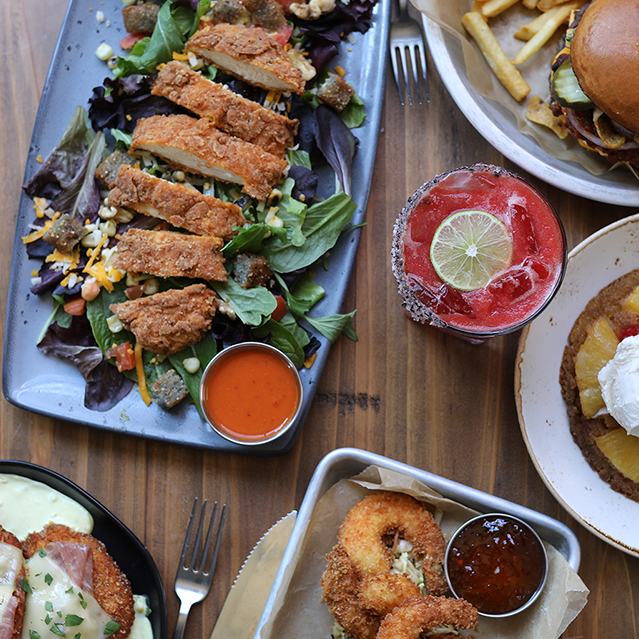 Our New Spring Menu is Here
February 21st