Pizza Night Kit - $35
Pizza night made simple! This pantry kit is one of our favorite ways to spend family time - in the kitchen! Round up the troops and meet in the kitchen for a dinner prep that everyone can be a part of! This kit includes all of the ingredients to make two DIY pizzas (12" pizzas), a large caesar salad and even includes our ready to serve housemade white chocolate chip brownies for a no-fuss dessert!
Kit includes:
• 2 balls of housemade pizza dough
• marinara sauce
• shredded mozzarella cheese
• cup & char pepperonis
• flour
• 3 heads romaine lettuce
• grated romano cheese
• housemade caesar dressing
• housemade croutons
• fresh baked white chocolate chip brownies
(instructions for making pizza at home included)

Backyard BBQ Kit - $60
More time at home means more time for our favorite family activity - backyard bbqs. Time to fire up the grill and get everyone outside, this kit includes two flat iron steaks, 8 nathan's hot dogs + king's hawaiian buns, DIY coleslaw and potatoes to make your favorite potato recipe! It also includes all of the goodies for a hot dog toppings bar - shredded cheese, relish, onion, tomato, jalapeños, ketchup + our housemate liquid blanket IPA!
Kit Includes:
• 2 10oz certified angus beef flat iron steaks
• 8 nathan's famous all-beef hot dogs
• 8 king's hawaiian hot dog buns
• shredded jack + cheddar cheeses
• classic relish
• housemade liquid blanket IPA mustard
• ketchup
• red potatoes
• DIY coleslaw mix (shredded cabbage, parsley, green onion, carrots)
• housemade coleslaw dressing
• whole jalapeños
• fresh tomatoes
• large yellow onion
(instructions + tips for kit included)
To place your order, please click HERE.
-
Share your creations by tagging us on IG @lazydogrestaurants // #ldtable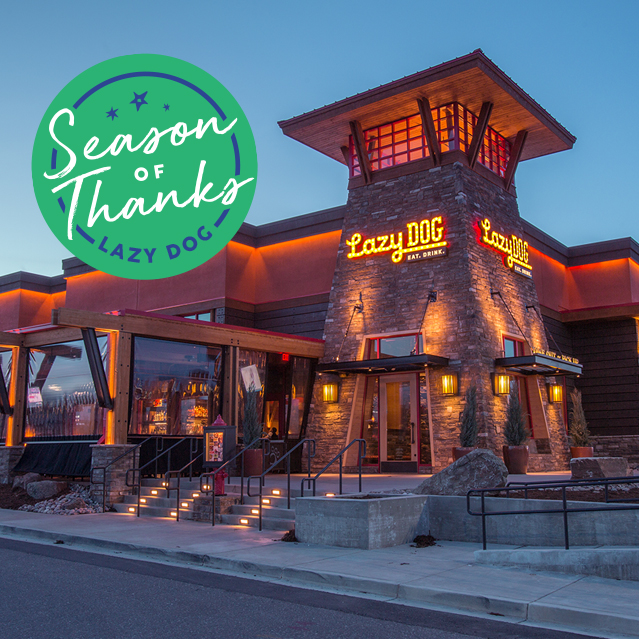 Season of Thanks
December 7th