RECIPE: Coconut Shrimp Ceviche
Summer is finally here! Things are starting to heat up, so today we are sharing a few of our favorite ways to enjoy a perfect summer day: 1. A nice, cold craft beer. 2. Swimming – lake, river, ocean, pool, whatever it is, a quick plunge is always so satisfying. 3. Make Coconut Shrimp Ceviche - refreshing, vibrant, and easily shareable, it's perfect for summer parties and family meals together in the backyard. Just add music...*clears throat*..."Alexa, play "Coconut" by Harry Nilsson!"
Now just grab a bowl of taro or your fave tortilla chips and get your scoop on! Enjoy y'all!
[serves 4-6]
You will need:
2 lbs. shrimp, peeled & deveined
1 gallon water
1 T. sea salt
1/4 cup lemon juice
1/4 cup lime juice
1 T. tapatio
1 T. sea salt
3 fl. oz. coconut milk
1/2 red bell pepper, cut julienne strips
1/2 green bell pepper, cut julienne strips
1/2 red onion, diced
1/2 medium, seedless jalapeño, minced
1/2 cup tomatoes, diced
2 T. cilantro, chopped
1 T. sugar
2 T. toasted coconut
Lime, cut into wheels
TARO CHIPS: Purchase taro chips or make them yourself. Preheat oven to 350°F. Peel taro root and slice into thin (but not too thin) pieces. Brush baking sheet with olive oil and bake until crisp, 14 to 16 minutes.
Steps:
1. Combine water + sea salt in a large saucepan, and bring to a boil.
2. Place whole shrimp into water for 1 minute and 30 seconds, stirring every 30 seconds. Remove shrimp from water and transfer to large mixing bowl. Leave in the refrigerator to cool for 30 minutes.
3. After 30 minutes, chop the cooked shrimp into 1/2" pieces. Put them back into the mixing bowl.
4. Pour lemon + lime juice over the shrimp and toss.
5. Cut bell peppers into 1/16" strips. Dice onion & tomato into 1/4" pieces. Finely chop the jalapeño. Then add ingredients into the bowl with chopped shrimp.
6. Mix tapatio, salt, sugar + coconut milk together and then add to the bowl with shrimp + veggies.
7. Chop cilantro and then add to bowl. Mix gently.
8. Place bowl in the refrigerator and marinate for at least 8 hours before serving.
9. Place in a serving dish, garnish with toasted coconut, serve with taro chips + lime wheels.

-
Share your creations by tagging us on IG @lazydogrestaurants using the #ldtable hashtag.
P.S. Our Coconut Shrimp Ceviche is available at all Lazy Dog Restaurants.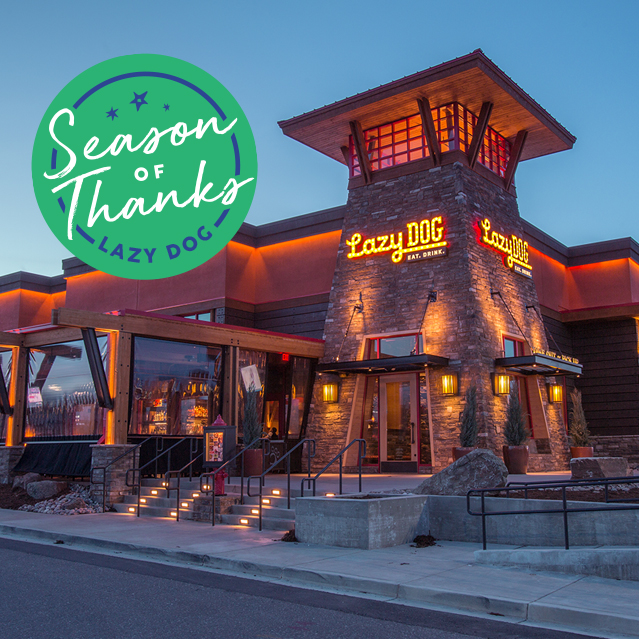 Season of Thanks
December 7th