bring dip + other unsolicited advice
Did anyone else wake up this morning to the growing realization that next week is Thanksgiving? Just six days left before all you hear is holiday music. Everywhere. Only six more moons until a growing number of Californians inflate gigantic air blown yard decorations...why yes, Bill...I see you've added a third 20 foot snowman to the yard. Festive.
And while we are on the subject - here's three free (and festive) tips on how to be the best Thanksgiving guest you can be: 1. Avoid being that person who lingers in the kitchen. 2. Abstain from showing up early and 3. Don't even think about arriving empty handed. Now this part is key and what separates the amateur party-goer from the more seasoned. If you bring an appetizer...pick something that doesn't require oven space or reheating. The kitchen is busy, y'all. Your famous hot crab dip can take a number because the bird gets priority seating today. And yes, next in line is the green bean casserole and then grandma's creamed corn...see where I'm going with this...be cool. And I do mean literally.
Go for a cold dip. People love dips. Dips bring us together. Dip bowls are also places you'll find strays, like great aunt Sally's cousin, who you see every three years, and whose name has conveniently slipped your mind. And let me be frank, I have nothing but love for this distant (darling) relative, there's just only so much Acorn Channel small talk one can endure. Just keep dipping, smile, nod along and chew slowly.
[Pro Tip: I practice this very series of motions before most major social events. It comes more natural that way.] Now it won't be long before others roll up to the dip zone and try to get in on this savory crowd pleaser...resist the urge to engage with these newcomers, this is your window to "do the right thing," slowly pivot sideways and share the front row with those who have yet to experience the plethora of first course finger foods. You're just going to sidestep backwards and use both hands to gesture that others can step forward. You're a hero now. A saint. A distinguished guest! And best of all? You're the one who brought that insane Onion Dip, the one that people will talk about at family gatherings to come.
thee aforementioned onion dip - of the delicious variety...
Lazy Dog's Charred Onion Dip Recipe [serves 4]
YOU WILL NEED
1/4 cup olive oil
1 lb yellow onions, julienne cut
1 tsp. garlic, finely chopped
1/2 fl oz white wine
2 oz green onions, root removed
1 t. olive oil
1 cup mayonnaise
1 cup sour cream
2 oz cream cheese
1/2 tsp thyme, freshly chopped
1.5 tsp salt
1/4 tsp black pepper, ground
METHOD:
Cook the onions with olive oil over medium heat for about 45 minutes or until a deep golden brown Note: do not burn and stir often
Add garlic and cook for 2 minutes
Add white wine and cook for 1 minute
Remove from heat and allow to cool completely
Toss the green onions with the olive oil and grill over high heat until charred
Remove green onions from heat and let cool
Add the cooked white onions, charred green onions and remaining ingredients into a food processor
Pulse and scrape down sides several times until the mixture is blended but still has some small pieces of onions left
Chill completely before serving with your favorite chips or vegetables
Win the hearts of everyone at your Thanksgiving table
Too busy to whip this up? We got you. Call in your order the day before Thanksgiving (we will be closed 11/22 so that our teammates can enjoy time with their families) and pick it up at any of our restaurants. Better yet, stop by for cocktails and a bite on 11/21 and take an order home with you. Your secret's safe with us.
But in all seriousness, wishing you a wonderful holiday with the ones you love most.
Until next time, stay hungry my friends.
Words + Photos by Rebecca Simms
Questions? Comments? Email:
[email protected]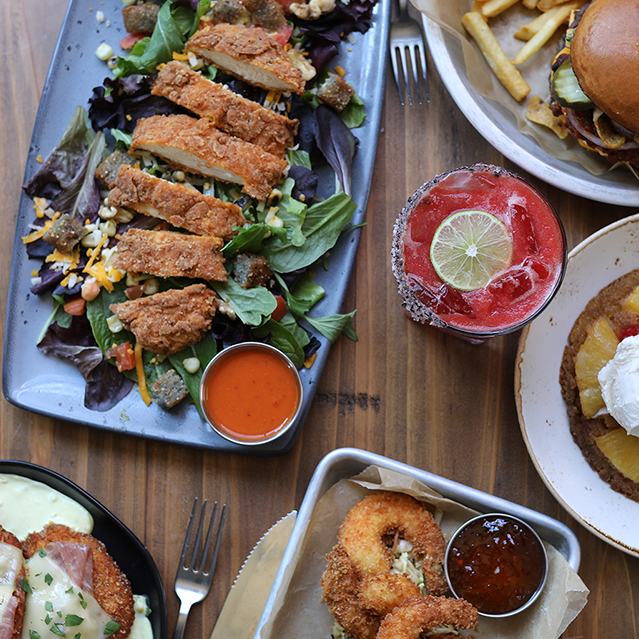 Our New Spring Menu is Here
February 21st