Spring 2019
Our new seasonal spring menu is here, y'all! This spring menu celebrates the legacy of American agriculture. It honors the people who, for generations, have been growing our food; the American farm families who work year-round tending to the land, seeds and crops that become the food we serve to our families.
These dishes were created to highlight a diverse group of American farmers, ranchers and growers who we want you to know by name. We thank these folks for ensuring our food is handled with care, harvested at its peak and made available for us to enjoy together at our table.
Goat Cheese + Pepper Jelly
cypress grove goat cheese topped with our housemade pepper jelly + served with walnut flatbread crackers

Heirloom Bean Salad
zürsun idaho heirloom beans, sweet peas, red onion, sweety drop peppers, feta + fresh herbs, tossed in our lemon vinaigrette, served chilled


Green Goddess Salad
little gem lettuce, watermelon radish, candied almonds, a crispy squash blossom from fresh origin farms stuffed with goat cheese, fresh herbs + housemade green goddess dressing

Asparagus Soup
made from scratch with fresh asparagus, available April – June

Pork Belly BLT
beeler's family farm pork belly, candied bacon, little gem lettuce, tomato + black pepper mayo served on whole grain wheat bread

Black Bean Jackfruit Tostada
topped with charred corn, avocado, feta, pickled jalapeños, roasted tomatillo salsa, shredded cabbage, fresh radish, cilantro + spicy crema

Pork Belly N' Beans
beeler's family farm pork belly slow-braised in bone broth, served with warm heirloom beans, topped with pickled mustard seeds, green onion crumble + grilled country toast

Alaskan Halibut
parmesan + herb crust, served with a chilled salad tossed in lemon vinaigrette, zürsun idaho heirloom beans, sweet peas, red onion, sweety drop peppers + fresh herbs


Vanilla Bean Custard
fresh vanilla bean + cream, topped with local hive honey, candied almonds, bee pollen + fresh berries

Spiked Sweet Peach Tea
stillhouse original whiskey, peaches, housebrewed tea, tangerine lace + soda

Gin + Elderflower Tonic
aviation gin, st-germain, flower petals, lime + soda


Carrot + Cucumber Tonic
cucumber rain vodka, fresh carrot juice, turmeric, housemade sweet + sour + soda


Almond Butter French Toast
local hive honey, almond butter cream cheese, candied almonds, bee pollen, fresh berries + whipped cream


Hangover Burrito
housemade chorizo sausage, scrambled eggs, cajun fries, black beans, jack + cheddar cheeses, wrapped in a flour tortilla, topped with tomatillo salsa, adobo sauce, sour cream, avocado + cilantro


--
Our seasonal recipes are now being served in all locations. We can't wait to hear what you think! Share your photos with us by tagging us on IG @lazydogresturants and using the #ldtable hashtag.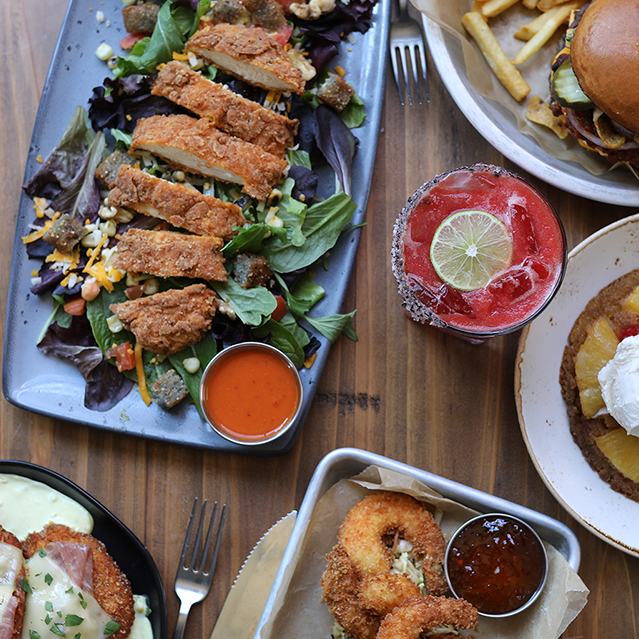 Our New Spring Menu is Here
February 21st